Quick Facts
Tuberculosis kills 8,000 people a day… Someone dies of TB every 15 seconds.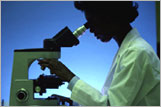 Corporate Leadership
With more than 250 years of combined healthcare research and biotechnology experience, Sequella executives have considerable knowledge and expertise in research and product development, manufacturing, intellectual property, quality assurance, clinical development, and regulatory affairs.
From diverse companies such as Human Genome Sciences, CoGenesys, Teva Pharmaceuticals, Johnson & Johnson, Novartis, Sandoz, EntreMed, Anergen, Hemispherx Biopharma, Accelovance, Medlogic Global Corporation, StemCo Biomedical, and others, our management team has demonstrated success in initial public offerings, mergers and acquisitions, and accessing capital markets. Each member of the executive team has an average of 20+ years as a biotechnology executive.